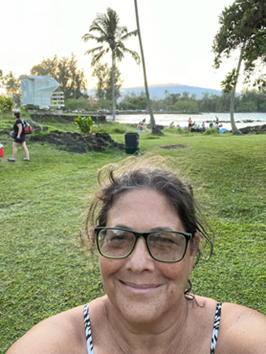 Aloha Kakou! My name is Ka'ili OBrien. I'm a mix of Hawaiian, German, Sicilian and Irish and I love food! I grew up in Waimea here on Moku O Keawe or as people call it, the Big Island, and grew up eating many types of cuisine (Hawaiian, Sicilian, German, Japanese, Chinese, Local Style cuisine). I learned to cook as a teen from both grandfathers and my mom and dad. Food was always a part of every family gathering growing up, and I attended family brandings for cattle where we would eat beef and Hawaiian food. My dad fished and hunted so I also grew up eating the freshest fish and game. I love the ocean, and I have been a paddler, surfer and water person my whole life. My dad would take me fishing and hunting as a kid and I learned where my food came from. We raised chickens and ducks, and my mom always had a garden, so I  learned early in to appreciate food.
I worked in the Food and Beverage industry for the next 15 years, and when I had my family, I would cook many recipes I had learned from the different chefs I worked under. I also worked as an educator here in Hawaii Nei and taught Ancient and Modern Hawaiian history, World history, and I had the pleasure of teaching a course on Ranching and Farming and Sustainability and we went to different ranches and farms to discuss techniques for sustainable farm to table food.
It's very wonderful to share with youngsters and adults about the amazing cuisine we have here! In Hawaii 'Ohana is everything. 'Ohana is family, friends, and people who mean as much to me as my blood family. We have a concept called Hā na'i, where you adopt people into your tribe, clan, family. To hā na'i is to share all your mana'o or knowledge with each other, and that's what I have learned and taught to all members of my 'Ohana! I love eating and preparing delicious food, and I would love to share my mana'o and mo'olelo (history) of Hilo town with all visitors. I also love to talk with people and learn about where you're from and what it is like where you come from. Hilo has a long vital history, and it is truly a wonderful place to live, and we have some of the finest and best restaurants on island and I would love to take you there and have you eat 'Ono food!
Mahalo,
Linda O'Brien
In loving service